PUBLIC COLLECTION FOR THE RESTORATION OF THE CROSS
The Vyšehrad National Cultural Monument in cooperation with the Royal Collegiate Chapter of St. Peter and Paul in Vyšehrad announces a public collection to restore the cross above the Brick Gate to its original form from the 19th century.
The public collection for the cross will end on 12/31/2022, the ceremonial unveiling and blessing will take place during the Advent season. The missing funds will be replenished from the Vyšehrad NCM's own resources, the transparent account called "Poklad Kněžny Libuše" will further be used to finance repairs to minor monuments in the Vyšehrad area.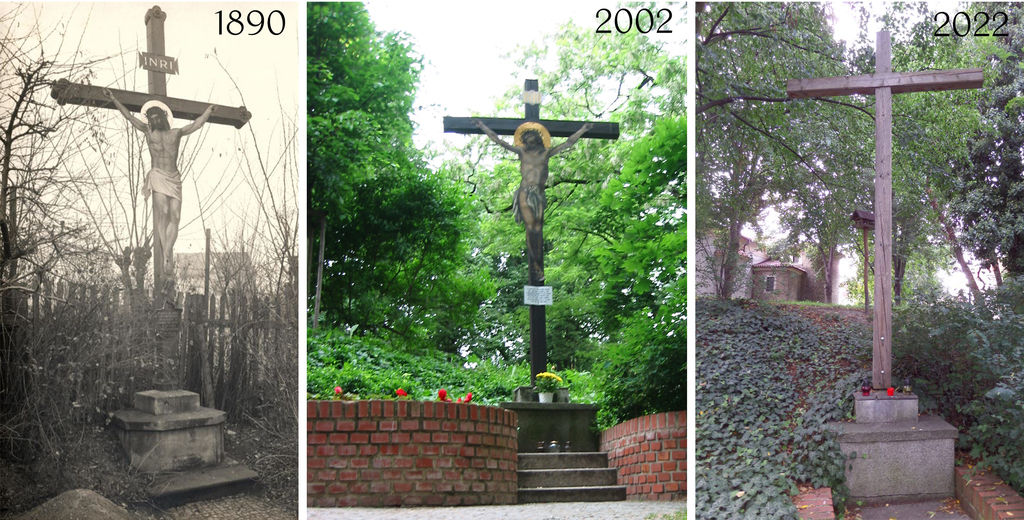 ---
In Vyšehrad and its immediate surroundings, since the 19th century at the latest, there have been several crosses with the figure of the crucified Jesus Christ, which are captured in contemporary paintings and photographs.
One was located in Vratislavova Street in front of house No. 8 and the other on a hill called Slepičárna by the road from Vyšehrad to Podolí. The other two crosses were located in the neighborhood of the Basilica of St. Peter and Paul, one on the side of the church in Štulcova Street and the other directly at the western entrance to the Vyšehrad Cemetery.
The fifth cross is the only one preserved to this day and is located above the staircase at the Brick Gate.
Its oldest depiction is on a photograph by an anonymous author from 1870, which shows the view from the walls at the Brick Gate towards the cemetery and the Basilica of St. Peter and Paul. The cross is captured in detail in a photograph that is of a younger date and is stored in the archives of the Vyšehrad Chapter.
A wooden latin cross, approximately three meters high, with a three-leaf end to the beams, stood on a brick, plastered plinth. The figure of the crucified Jesus Christ with halo was painted on a tin plate.
Above it was a tin plate with the inscription INRI and below it was a tin plate with the inscription ""Come to me, all you who are weary and burdened, and I will give you rest. (Matthew 11:28)".
Over time, the original wooden cross was replaced by another, simpler cross with a higher horizontal beam without a three-leafed end. Later, the plates were changed, as evidenced by photographs from the 1970s. Sometime around 2002, the figure of Jesus Christ and the two plates were stolen. Since then, the cross has been empty.