GORLICE - UNDERGROUND HALL
Use the opportunity to rent the largest subterranean hall in Vyšehrad, housing the original statues from the Charles Bridge. Let yourself be carried away by the mysticism of the underground and discover the genius loci of Vyšehrad Park.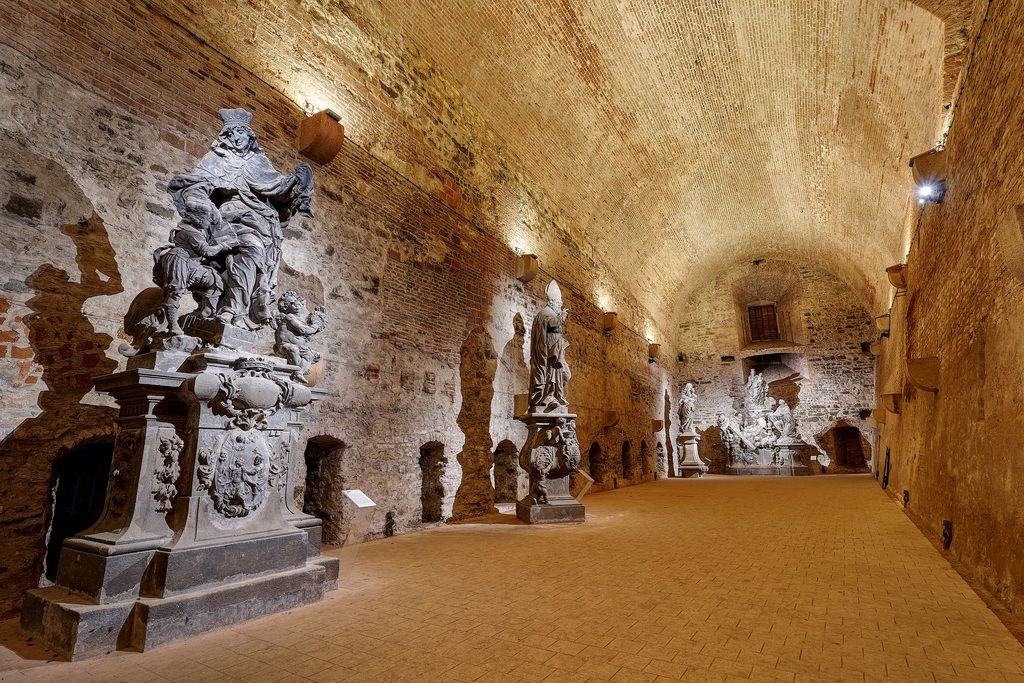 ---
Included in the rental:
— the 290 square-meter space of the Gorlice Hall, including a 333-meter-long underground corridor
— the main entrance does not provide wheelchair access; however, you can use the adjacent corridor for barrierfree access
— there are no sanitary facilities in the building; public conveniences are located at the Brick Gate (Cihelná brána)
Capacity:
— up to 150 people standing
— up to 100 people sitting based on chair size and arrangement
Equipment:
— sound system: 2 loudspeakers and a sound console + sound engineer
— lighting: 2 dimmer lights
— equipment installation is subject to a fee
Catering:
— welcome drinks can be served inside; we recommend arranging a small banquet in front of the gate to Gorlice
Staffing:
— sound and lighting engineer: 1,500 CZK for the first two hours and 500 CZK/hr for each additional started hour thereafter
— the price includes one Vyšehrad NCM employee
Parking:
— the rental includes 5 entry permits to the compound; the vehicles can park in V Pevnosti Street
Times:
— the end time is 10 p.m. for outdoor events
— until 12 midnight for indoor events
---
RENTAL PRICE
— hourly rate: 10,000 CZK + VAT
— per hour of preparation: 4,500 CZK + VAT
Additional options:
We can arrange an exclusive and unforgettable tour of Vyšehrad for your guests, including the Martin's Casemates at the Rotunda of St. Martin, which are not normally accessible.